Perlcon
Perlcon, the manufacturing company uses contemporary techniques, proven methodology and uses green materials. Besides the quality, the materials contain unique characteristic favorable to construction of buildings in India. Some of the factors that make a winning combination are saving of time, cost benefits and imparting exquisite design and appearance. These are due to many beneficial properties, amiability and environmental friendliness. 
The company lays emphasis on green construction for environment protection and efficient management of our natural resources.
Perlcon products have a special formulation that retains moisture in the mortar/plaster. Hence, they are self curing products and do not need any additional curing post application. There is also no requirement of  pre wetting the substrate prior to application of Perlcon products.
Ever increasing demand for construction sand has caused rapid depletion of riverbeds and raised many environmental concerns. Aggressive and controlled sand mining has resulted in erratic supply and therefore greater fluctuation in prices as well as inconsistency in quality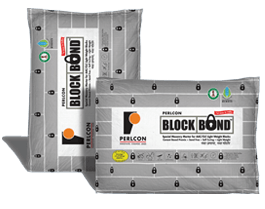 To reap the full benefits of AAC/CLC blocks, they need be used in combination with Perlcon Blockbond, Additionally, Blockbond provides better heat insulation as its unique composition does not allow creation of a thermal bridge. Perlcon Blockbond is 2.25 times lighter in weight than conventional mortars and therefore offers higher coverage.
Perlcon Brickbond is a unique cement based formulation developed specifically to overcome sand related problems like availability, quality, labour and time while enhancing the advantages of mortar. Brickbond ensures consistent quality, fewer operation cycles and quick construction. It saves time and manpower.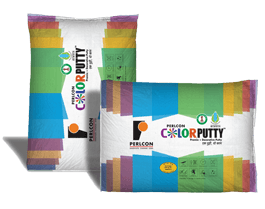 Perlcon's Colorputty replaces conventional white putty to add aesthetics to walls in homes and offices. Sometimes final painting needs be deferred to detect dampness, leakages, cracks, etc. or to decide on interiors before the final painting job.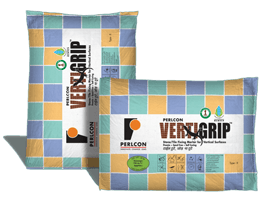 Internal or external wall tiling/cladding work is exposed to extreme temperature variations which induces expansion and contraction of tiles/stones. In addition, external tiling or cladding is also affected by rains, wind and gravitational force. Air pockets and lack of curing reduces stability of tiling work.
Osmoplast is an indigenous, self curing, sand free ready mix mortar formulation from Perlcon which makes damp wall free of moisture by releasing the vapours into the environment. Since it does not allow seeped water to get accumulated within plaster surface, it prevents stain formations as well as flaking and peeling of paints on your beautiful walls.