IS026 Forged Brass Gate Valve 2 Mpa (Screwed)
Brand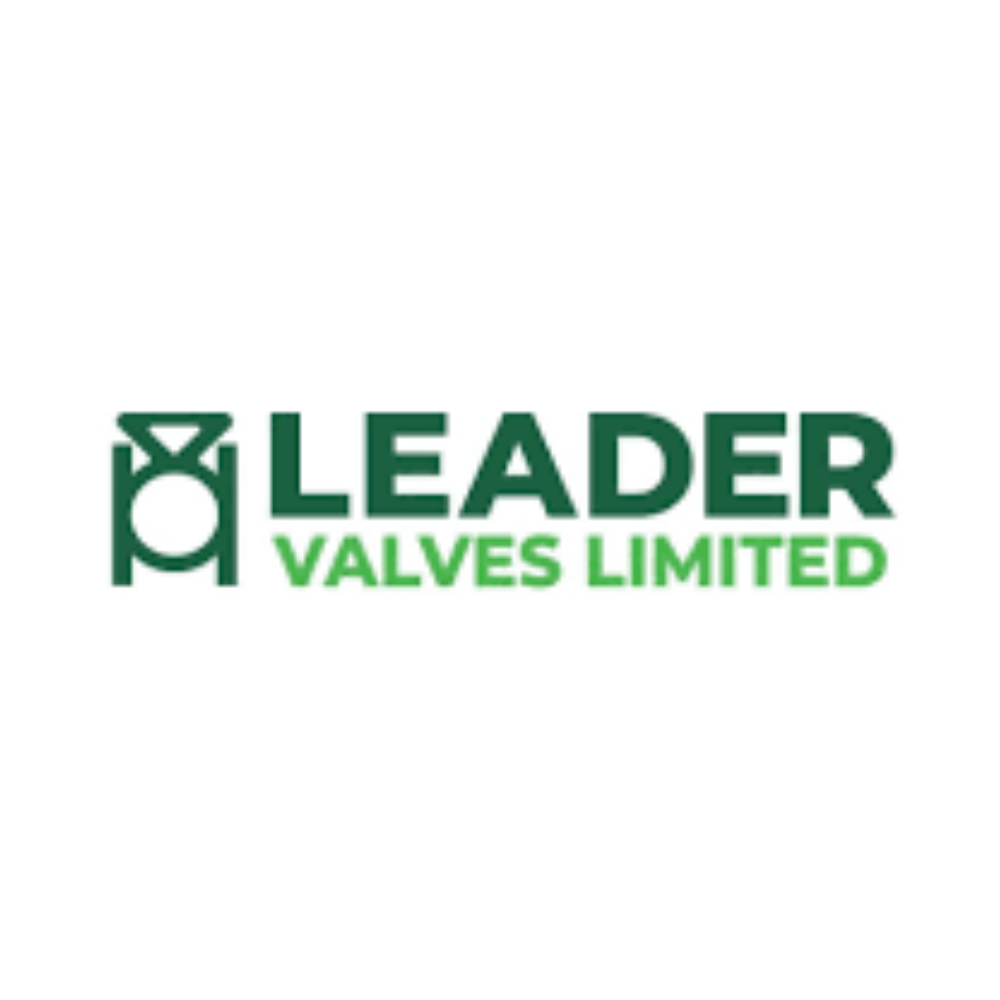 Item Code: IS 026
Pressure Rating: 2 MPa
Testing Standard: IS 13114
Size Range: 15mm to 25mm
Product Standard: IS 13114
Suitable For

Submit the inquiry to get direct support from our product team
Material Specification
IS026 Forged Brass Gate Valve 2 Mpa (Screwed)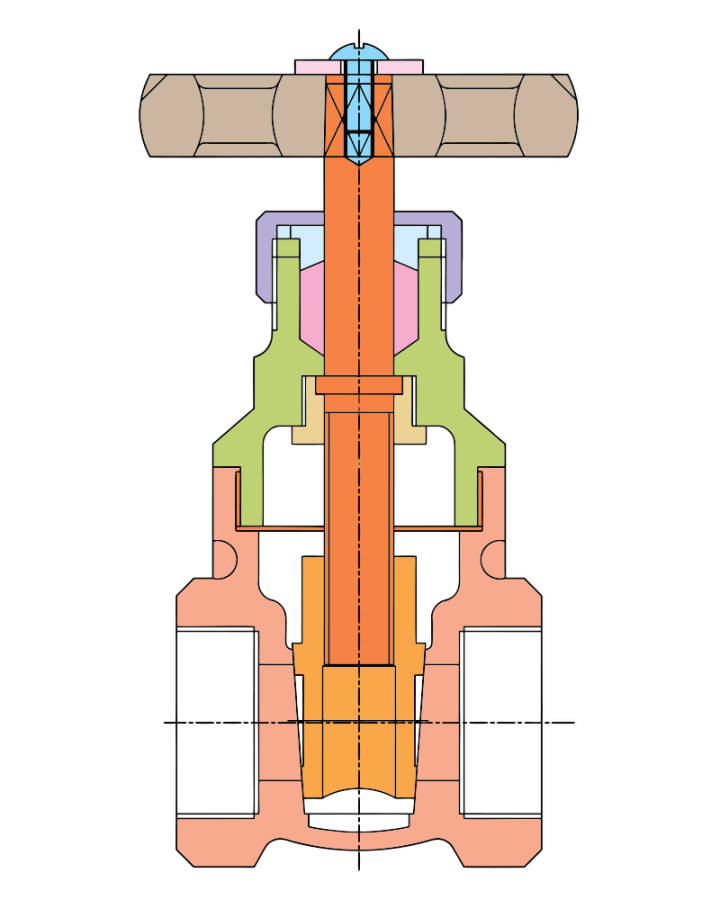 P. No.
NAME OF PART
MATERIAL
SPECIFICATION
1
BODY
FORGED BRASS
IS:6912 Gr. FLB
2
WEDGE
FORGED BRASS
IS:6912 Gr. FLB
3
GASKET
FORGED BRASS
IS:6912 Gr. FLB
4
STEM
FORGED BRASS
IS:6912 Gr. FHTB1
5
STEM NUT
FORGED BRASS
IS:6912 Gr. FHTB1 / IS:6912 Gr. FLB
6
GLAND PACKING
HEMP & JUTE
IS 5414
7
GLAND
FORGED BRASS
IS:6912 Gr. FHTB1 / IS:6912 Gr. FLB
8
GLAND NUT
FORGED BRASS
IS:6912 Gr. FHTB1 / IS:6912 Gr. FLB
9
HAND WHEEL
CAST IRON (IS 210 GR. FG200) / M.S.SHEET(POWDER COATED)
10
WASHER
STEEL
IS 2062
11
SET SCREW
STEEL
AN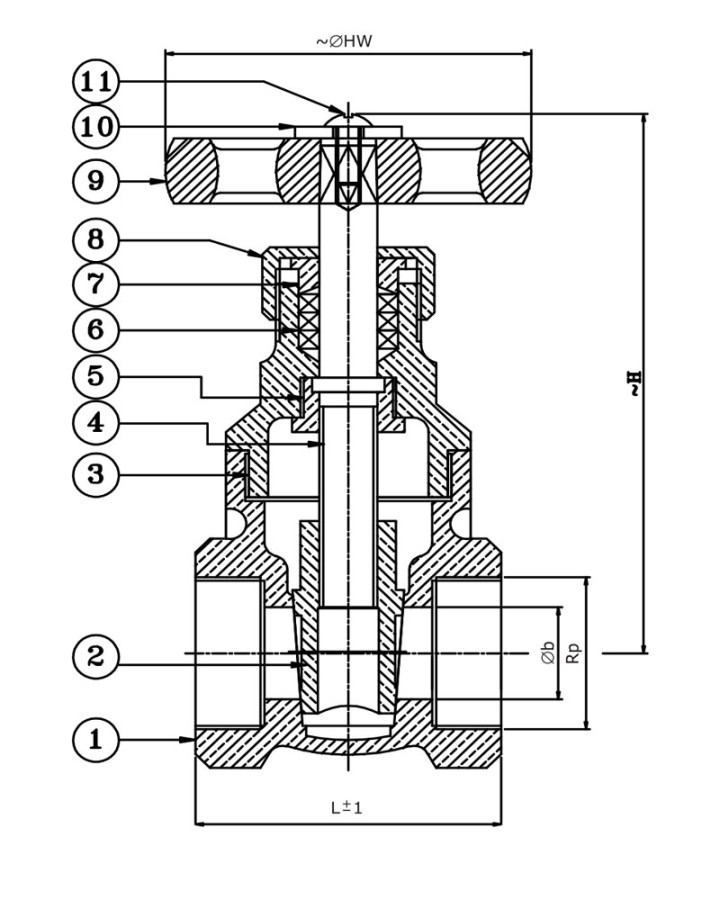 | SIZE (mm) | 15 | 20 | 25 |
| --- | --- | --- | --- |
| L | 52 | 56 | 65 |
| Øb | 12.7 | 19 | 25 |
| ~H | 76 | 82 | 100 |
| ~ØHW | 48 | 60 | 60 |
| RP | ½" | 3/4" | 1″ |
| Item Code | ISO26 | ISO26 | ISO26 |
Design std.: IS: 13114.
Screwed in bonnet, inside screw non-rising stem, integral seat.
Screwed female parallel threads to IS: 554.
Heavy duty full bore long threads.
Extra strength of stem with high tensile brass.
Provision for re-packing under pressure in the installed condition.
Sheet metal handwheel offers better strength & convenient operation.
Easy visual control of open/closed position marked on the handwheel/nameplate.
PRESSURE RATING: 2 MPa
TEST PRESSURE (HYDROSTATIC) :
BODY (mm)
SEAT
3 Mpa (435 psig)
2.2 Mpa (319 psig)
END CONNECTION
Screwed Female Threads to IS:554(parallel).
UTILISATION & SERVICE
"LEADER" Forged Brass Gate valves are suitable for above-ground installations.
Best suited for portable water, treated fresh water, neutral liquids & some gases.
WORKING PRESSURE
Maximum Working Pressure: (CLASS-I) 10 Bar,(CLASS-II)16 Bar.
See Pressure/Temperature Diagram.
TEMPERATURE LIMITS
Maximum working temperature: 45°C.
See Pressure/Temperature Diagram.
No more offers for this product!
General Inquiries
There are no inquiries yet.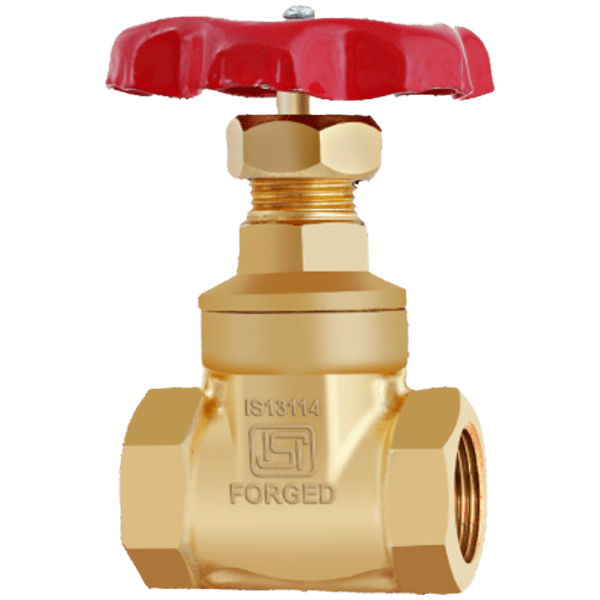 IS026 Forged Brass Gate Valve 2 Mpa (Screwed)