Temperature measuring instrument (testo 635-2)
Brand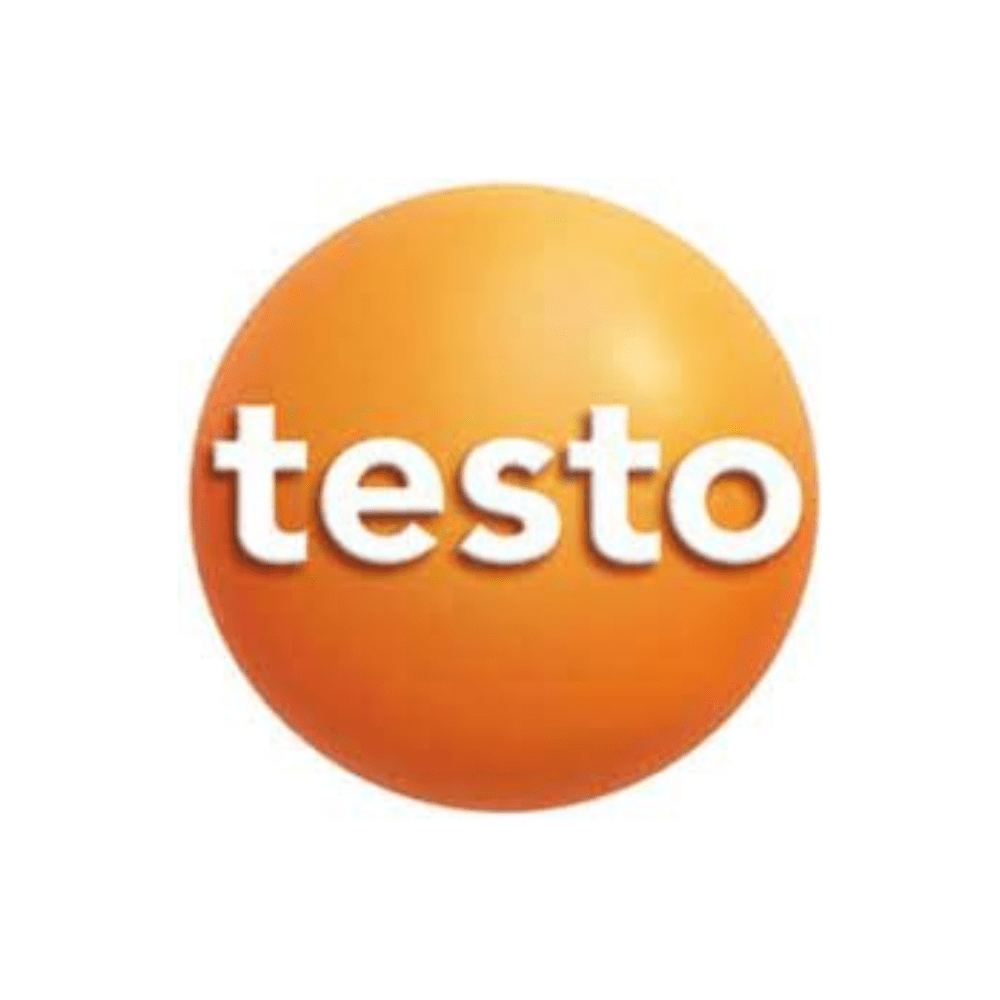 Optionally available sensors for moisture, temperature, pressure dew point and absolute pressure measurements
2 plug-in sensors and 3 wireless sensors can be connected
Optionally available sensors for moisture, temperature, pressure dew point and absolute pressure measurements
USB cable and PC software for archiving and logging measuring data included
Submit the inquiry to get direct support from our product team
Description
Temperature measuring instrument (testo 635-2)
The testo 635-2 temperature and humidity measuring instrument is excellently equipped for carrying out a variety of measurements in the field of air conditioning. A wide selection of optionally available sensors and probes can be connected to the meter to provide you the following measuring data: • Relative humidity • Material moisture • Material compensation moisture • Pressure dew point in compressed air systems • HTC value • Air temperature • Surface temperature • Core temperature • Absolute pressure Testo 635-2 is available with two sensor ports for pluggable sensors and up to 3 further temperature or moisture sensors which can be connected to the instrument via wireless along with an easy-to-read display. Rugged, practical, easy to use In addition to all the other measurements, the testo 635-2 temperature and humidity measuring meter also equips you to analyze levels of moisture at ceilings and walls by and calculate the dew point difference between the indoor air and the surface of the wall along with displaying min, max and mean values. Individually configured characteristic curves ensure that the material moisture content is displayed reliably Both the meter and the menu guide are simple and comfortable to use with a backlit display which allows you to read the measurements even in poor lighting conditions. In addition, a strong protective case protects the meter effectively against any accidental knocks and bumps. Saving, transferring and printing out data as easy as pie with the testo 635-2 temperature and moisture meter It also allows you to save measuring sites and allocate the measuring data to the relevant site. Create individual user profiles to perform parallel long-term and material moisture measurements. Save up to 10 000 readings – individual measurements and measurement series – to your meter. The USB cable in the scope of supply can be used to connect your moisture meter to your PC or laptop and the software allows you to log and archive your measuring data comfortably and easily. The optionally available testo fast printer also allows you to print out the measuring data on the spot.
Scope
testo 635-2 temperature and moisture meter, PC software, USB data cable, calibration protocol, batteries. PLEASE NOTE: a sensor (not in scope of supply) is required to operate the meter.
Technical Data
Temperature – NTC Measuring range
-40 to +150 °C
Accuracy
±0.2 °C (-25 to +74.9 °C)
±0.4 °C (-40 to -25.1 °C)
±0.4 °C (+75 to +99.9 °C)
±0.5 % of mv (Remaining Range)
Resolution
0.1 °C
Temperature – TC Type K (NiCr-Ni) Measuring range
-200 to +1370 °C
Accuracy
±0.3 °C (-60 to +60 °C)
±(0.2 °C + 0.3 % of mv) (Remaining Range)
Resolution
0.1 °C
Humidity – Capacitive Measuring range
0 to +100 %RH
Accuracy
See probe data
Resolution
0.1 %RH
Absolute Pressure Measuring range
0 to 2000 hPa
Accuracy
See probe data
Resolution
0.1 hPa
General technical data Dimensions
220 x 74 x 46 mm
Operating temperature
-20 to +50 °C
Product-/housing material
ABS / TPE / Metal
Battery type
Alkali manganese, mignon, type AA
Battery life
200 h
Storage temperature
-30 to +70 °C
Weight
428 g
Datasheet
Instruction Manual
No more offers for this product!
General Inquiries
There are no inquiries yet.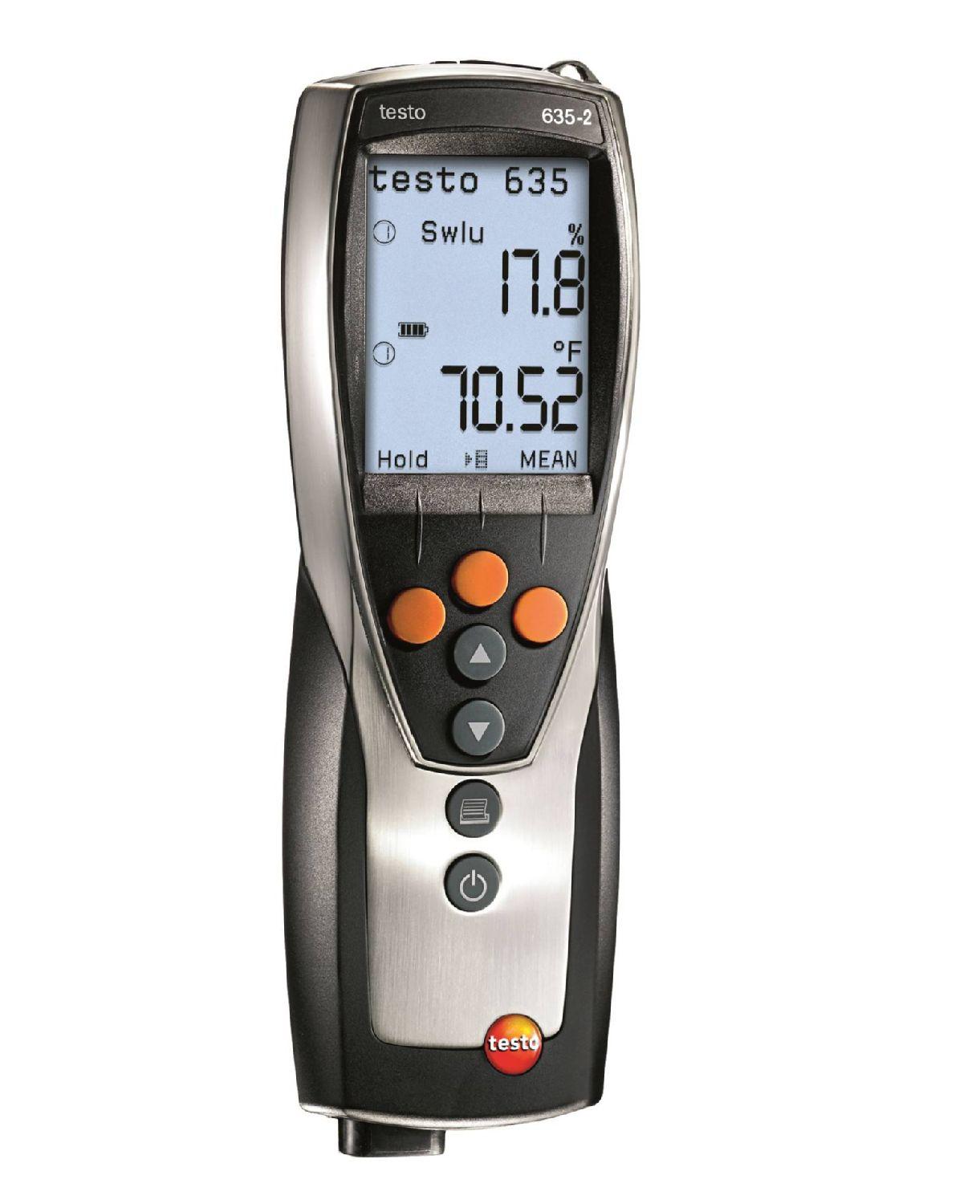 Temperature measuring instrument (testo 635-2)