Thermal Camera (testo 872)
Brand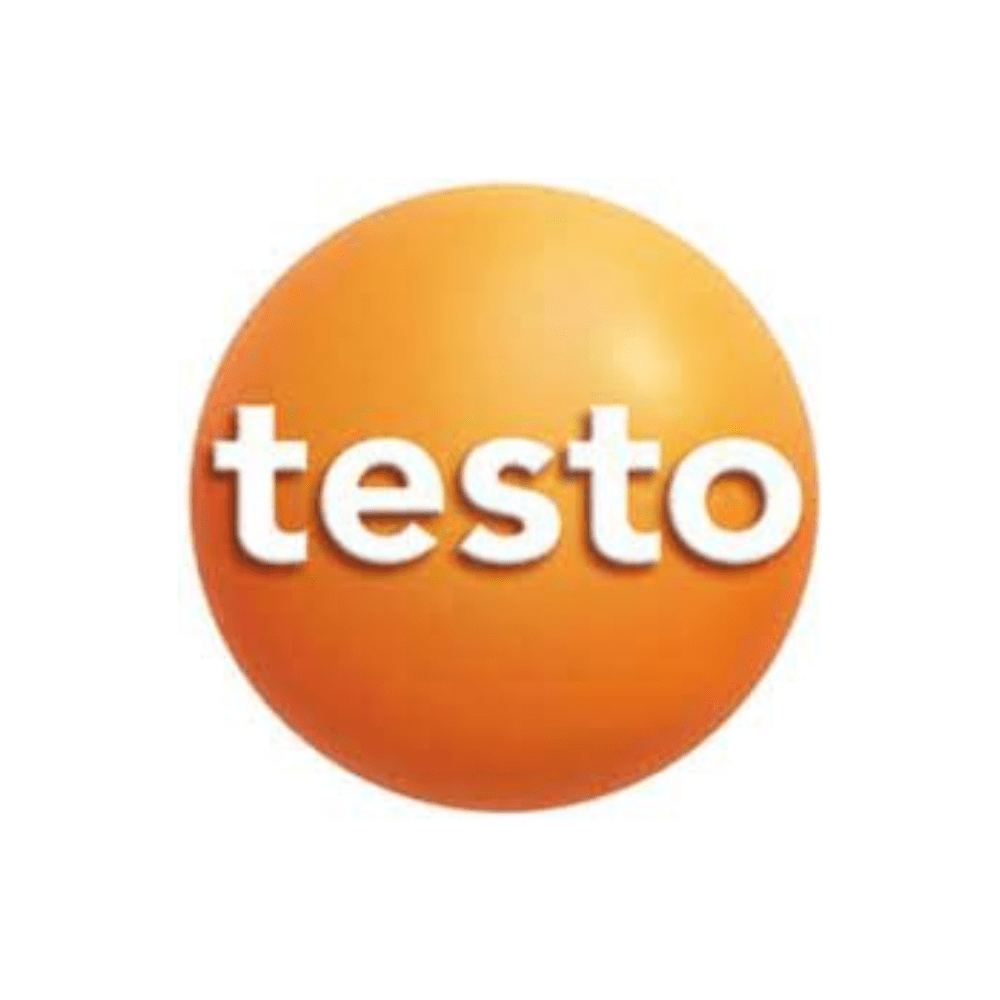 Highest image quality: IR resolution of 320 x 240 pixels, via integrated testo Super Resolution Technology 640 x 480 pixels
Precise measurement: thermal sensitivity of 0.06°C
Smart and wireless: use your mobile device with the free testo Thermography App and wirelessly transmit readings from the testo 770-3 clamp meter and the testo 605i humidity measuring instrument (both available separately)
Integrated laser marker – can also be precisely visualized as a measuring point in the thermal image
Submit the inquiry to get direct support from our product team
Description
The testo 872 thermal imager is ideally suited for professional industrial and building thermography – at the same time it ensures your work is both quick and easy. It is versatile to use, for example in industrial and mechanical maintenance or for detecting structural defects. You can generate error-free and objectively comparable infrared images using its handy functions. The IFOV warner, testo ɛ-Assist and testo ScaleAssist mean you can avoid measurement errors and not only effortlessly achieve optimum setting of emissivity (ɛ) and reflected temperature (RTC) for building thermography, but also of thermal image scale.
The testo 872 thermal imager– smart and networked
The testo 872 thermal imager guarantees wireless communication with mobile terminal devices via WLAN. The testo Thermography App for iOS and Android offers you the possibility of writing and sending reports on site, as well as saving them online, and of using your smartphone or tablet as a second display or for remote control.
The testo 872 delivers even more informative thermal images in combination with the compatible 770-3 clamp meter and testo 605i thermohygrometer. Both are available separately – simply order them straight away along with your testo 872. The thermal imager wirelessly integrates the measurement results of these measuring instruments via Bluetooth. The additional output, current and voltage values of the testo 770-3 clamp meter enable better interpretation of measured temperatures. Measure the air temperature and humidity with the testo 605i humidity measuring instrument and easily detect locations at risk of developing mould using the special humidity palette in the thermal imager via the traffic light principle.
Areas of application of the testo 872 thermal imager
Detect locations at risk of developing mould, pinpoint thermal bridges, discover structural defects or identify overheated connections. The testo 872 thermal imager is ideal for applications in daily maintenance and installation work in trade and industry. Quick, simple and reliable for maintenance and detection of defects.
Technical highlights of the testo 872 thermal imager
The testo 872 thermal imager is characterized by its easy handling and its outstanding image quality. Its technical features are impressive:
Highest image quality thanks to high resolution: 76,800 temperature measuring points for precise thermography. Infrared resolution of 320 x 240 pixels – extendible to 640 x 480 pixels via integrated SuperResolution Technology
Detecting temperature differences from as little as 0.06°C
testo Thermography App to use mobile terminal devices as a second display and for remote control or to write and send reports, along with saving them online
Wireless communication thanks to Bluetooth – this means you can also wirelessly integrate the readings of the compatible testo 770-3 clamp meter and testo 605i thermohygrometer
Built-in digital camera and laser marker generate a real image in parallel to the thermal image
Critical temperature conditions are directly displayed via automatic hot-cold spot recognition
The testo ScaleAssist automatically ensures optimum setting of the thermal image scale, which means you generate objectively comparable and error-free thermal images, for example of the thermal insulation behaviour of buildings
The testo ɛ-Assist ensures the correct measurement result by automatically determining and setting the emissivity and reflected temperature
The IFOV warner means the distance from the measurement object / measurement spot size is determined and the measurement spot is shown on the thermal image – you therefore avoid measurement errors because the camera shows you exactly what you can measure
Pro software for image evaluation on the PC
You can choose to save thermal images as JPEGs
Scope
testo 872 thermal imager with radio module for Bluetooth/WLAN, USB cable, mains unit, lithium-ion rechargeable battery, pro software IRSoft (free download), 3 x testo ε-Markers, commissioning instructions, short instructions, calibration protocol and case.
Technical Data
Ambient Condition
Operating temperature
-15 to +50 °C
Storage temperature
-30 to +60 °C
Air humidity
20 to 80 %RH non-condensing
Housing protection class
IP54
Vibration
2G
Image output visual
Image size
at least 3.1 MP
Minimum focus distance
0.5 m
Image presentation
Display type
8.9 cm (3.5″) TFT, QVGA (320 x 240 pixels)
Digital zoom
2x; 4x
Display option
IR image / real image
Colours
10 (iron, rainbow, rainbow HC, cold-hot, blue-red, grey, inverted grey, sepia, Testo, iron HT)
Imager equipment
Full screen mode
Included
JPEG storage
Included
Video streaming
via Wi-Fi with testo Thermography App
Standard lens
42° x 30°
Digital camera
Included
Interface
USB 2.0 Micro B
WLAN Connectivity
Communication with the testo Thermography App wireless module Bluetooth/Wi-Fi (EU, EFTA, USA, AUS, CDN, TR)
Bluetooth
Measurement value transfer from thermohygrometer testo 605i, clamp meter testo 770-3 (optional); Wireless permit in EU, EFTA, USA, Canada, Australia, Turkey
Laser
Laser marker
Imager storage
File format image
.bmt; .jpg; export option in .bmp; .jpg; .png; .csv; .xls
Storage device
Internal Memory (2.8 GB)
Infrared image output
Spectral range
7.5 to 14 µm
Infrared resolution
320 x 240 pixel
Thermal sensitivity
60 mK
Field of view
42° x 30°
Minimum focus distance
<0.5 m
Geometric resolution (IFOV)
2.3 mrad
SuperResolution (Pixel)
640 x 480 pixels
SuperResolution (IFOV)
1.3 mrad
Image refresh rate
9 Hz
Focus
Fixed focus
Measurement
Measuring range
-30 to +100°C; 0 to +650°C
Accuracy
±2 °C, ±2 % of m.v.
Emissivity
0.01 to 1
Reflected temperature
manual
testo ε-Assist
Included
Measuring function
Solar mode – manual
Input solar radiation
Analysis function
Mean point measurement, hot/cold-spot recognition, Delta T, area measurement (min-max on area)
Electrical mode – manual
Input current voltage power
IFOV warner
Included
Humidity mode – manual
Included
testo ScaleAssist
Included
Humidity measurement with humidity measuring instrument
Automatic measurement value transfer of thermohygrometer testo 605i via Bluetooth (instrument must be ordered separately); Wireless permit in EU, EFTA, USA, Canada, Australia, Turkey
Electrical measurement with clamp meter
Automatic measurement value transfer of clamp meter testo 770-3 via Bluetooth (instrument must be ordedered separately); Wireless permit in EU, EFTA, USA, Canada, Australia, Turkey
PC software
System requirements
Windows 10; Windows 8; Windows 7
Physical specification
Dimensions
219 x 96 x 95 mm
Weight
510 g
Product-/housing material
PC – ABS
Power supply
Battery type
Fast-charging, Li-ion battery can be changed on-site
Operating time
4.0 h
Mains operation
yes
Charging options
In instrument / charger (optional)
Termovisores garantia
EU-/EG-guidelines
RED: 2014/53/EU; EMC: 2014/30/EU
General technical data
Product colour
Black
Display ligthing
bright / normal / dark
Datasheet
Instruction Manual
No more offers for this product!
General Inquiries
There are no inquiries yet.