The push toward sustainability and green buildings was triggered out of necessity, but customers are fast realizing that it will be the best option in the years to come. As the effects of climate change are getting more visible across the globe, developing nations like India are switching to sustainable building engineering. Today, the green building concept has evolved into a trillion-dollar industry across the globe and India has been consistently ranked in the third position in the top list of countries. According to the Green Business Certification Inc. (GBC) and US Green Building Council (USGBC), India already had about 899 LEED-certified projects. This adds up to more than 24.81 million sq. meters of green building space and this statistic is from the end of 2018. By the year 2022, the country is expected to reach the 10 billion sq. ft. target.
Basically, the concept of green building is about sustainability and "environment-friendly" living and commercial spaces. The focus of these spaces is on the efficient use of natural resources, including energy (sunlight), water and construction materials. The "Sustainable and Green building" approach ensures minimal negative impacts on the natural environment of the space as opposed to traditional construction that have been exploited and wasteful. Also, green homes are meant to be cost-effective, self-sustaining and have low maintenance needs. Some of the ways in which this is achieved include:
Optimum use of daylighting to save energy costs
Recycling used water and rainwater harvesting
Achieving the lowest possible carbon footprint

Concept of green building-
The sheer benefits of "Green Buildings" easily translate into lower energy bills, healthier environment and comfortable living. Today green buildings have become the leading trend in home and office space investment and thankfully, the idea has gotten a favorable push from both the Central and State governments. State, including Rajasthan, West Bengal, Andhra Pradesh, Haryana, Punjab, Odisha Uttar Pradesh, and Maharashtra are already offering encouraging incentives to projects that aim at a LEED Certification. 
For a country with a population above 1.3 billion people, it is definitely not easy reaching sustainability targets. However, it is still incredible how the IGBC has reached its goal of 5.27 billion sq ft by the end of 2019. This is already half of its target by the year 2022.
The global construction industry is one of the top contributors to greenhouse gas emissions, which in turn is leading to rising temperatures, rising sea levels, flooded coastal areas, more frequent forest fires and so on. Lives are already being lost in the thousands due to the direct effects of climate change. Cities like Johannesburg are already running out of drinking water and the crisis has even knocked doors in states like Bengaluru India. Buildings across the globe are already contributing 40% of the greenhouse emissions and for a country like India, where the demand for real estate is increasing exponentially, green building is the key to fighting the crisis.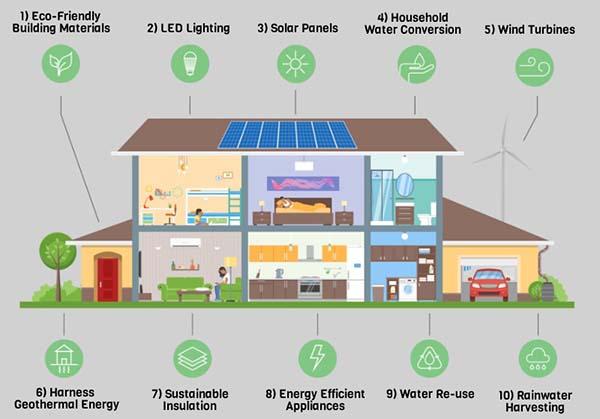 Sustainable & Organic Solutions-
AIROXY – WATER SAVING SHOWER HEAD – AIROXY – WATER SAVING SHOWER HEAD (BLACK / BLUE), This water saving shower head can mix air with water to spray water effectively to maintain equivalent water pressure compared to regular shower heads.
DualThreadAerator :- With 3 LPM straight shower flow aerator you save water and reduce water bill.
Leave It Pot Small Composter:- Perfect for people who have space & do not like lifting weights! Also a companion pot for your Kambha in case you are generating more than 1 kg waste per day.