Automatic Organic Waste Converter – ECOFREIND
ECOFRIEND provides smart & intelligent food waste solutions. Its microbiological technology reduces volume by upto 85% in 24 hours and converts organic supplements for plants.
A revolution in organic waste management.
ECOFRIEND – 24 hours Fully Automatic Waste Converter
The most advanced solutions for managing organic waste, economically & effectively
ECOFRIEND Organic Waste Converter will help you to manage your waste efficiently and economically, through an environmentally conscious process. ECOFRIEND is an end-to-end Waste management solution, capable of converting wet waste into Soil supplements in 24 hrs. ECOFRIEND's – Feed & Forget System, doesn't require any skilled labor and uses minimum energy. Equipped with multiple sensors, an inbuilt shredder, PLC based touch screen interface, ECOFRIEND is the most advanced Waste management solution available in the industry
Submit the inquiry to get direct support from our product team
Highlights of Organic Waste Converter
Feed & Forget System
Waste to Soil Enhancer with 80 – 85% Volume reduction
Emission free process • Inbuilt Shredder with high strength 4140 Alloy Blades enabling significant Power saving & better supplement quality, No separate Shredder required
PLC based Touch Screen Interface for better usage experience
Dual Feed inlet: Primary through shredder as well as Secondary direct inlet
The insulted jacket heater used in ECOFRIEND, it ensures even & controlled heating to the waste  End product will be in Dry and Powder Form
Emergency STOP Button for operator safety
Only 304 grade stainless steel is used, which leads to a machine life of more than 20 years
High quality inline gearboxes used
Unique Shaft breakage protection system
Negligible Manpower required Low Maintenance and Operational Cost
Project specific customization is possible
ECOFRIEND EVOLVE SERIES
It is specially designed for small scale Businesses and Villas. It is developed to take up minimal floor space while allowing for easy operational control.
Particulars                            EF-05                                          EF-10
Input capacity per day         5 to 7 Kgs                                   10 to 15 Kgs
Processing time*                  18-20 Hours                               18-20 Hours
Power type                           Single phase                               Single phase
Power rating                        2.5 Kw                                         3 Kw
Dimensions (LBH in mm)     940 x 690 x 1170                        1093 x 840 x 1170
Weight                                 170 Kgs                                       195 Kgs
No more offers for this product!
General Inquiries
There are no inquiries yet.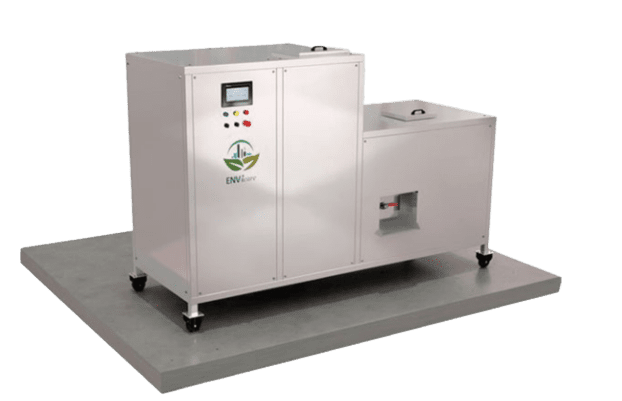 Automatic Organic Waste Converter – ECOFREIND