Inquiry about Zerodor Waterless Urinals by Ekam Eco
Brand

This is a unique and innovative product by Ekam Eco Solutions which helps in saving 80% of water used in restrooms along with maintaining good hygiene and preventing odor. Its a patented mechanical device which uses a one way valve which allows the urine to pass into the drain pipe and at the same time prevents the foul gases to escape into the restroom.
It can be retrofitted to any existing urinal with a waste coupling.
It is a one time installation product and does not require  any consumables or any fitting that needs to be changed periodically.
Zerodor Waterless Urinal
Product description:
Zerodor is a revolutionary Waterless Urinal Technology which saves over 1.5 Lakh Liters of water per year per urinal.
Its patented mechanism does not uses chemicals or consumables, have no recurring cost and makes the restroom odor-free and water-free.
These kits have a mechanical one way valve which allows the urine or liquid to flow into the drain line but does not allow the odor causing gases to come back into the restroom. This allows the urinals to operate without any flushing.
Conventional Waterless Urinals in the market uses Chemicals and Cartridges to handle the odor & water and demands infrastructural changes during installations.
Zerodor's frugally designed mechanical valve allows it to be retrofitted to existing urinal pans without having any infrastructural change and recurring cost.
Waterless urinal results in reduced microbial growth as urine is primarily sterile.
It can be fitted to any existing wall mounted urinal with waste coupling. 
Advantages:

Saves millions of litres of water.
Reduces the volume of total waste water dischrage
Reduces the power consumption needed to pump the water
Reduces load on plumbing mainenance and servicing
Decreases the amount of waste water needed to be treated in STPs
Concentrated urine can be collected as there is no mixing with water. This can be used as a fertilizer.
Can be retrofitted into any wall mounted urinal with a waste coupling
One time fitting
There are no recurring costs
Low maintenance
Does not require power for its working
Zerodor waterless urinal has won several National and International awards for its design and innovation in water saving technologies.
It has been installed by several corporates, Educational institutes and Government Organizations for water conservation. Indian Airforce, Indian Navy and Indian Navy has installed Zerodor at many of their units.
Tata, Adani, L&T are some of the corporate beneficiaries of Zerodor Waterless Urinals. They were able to save millions of litres of water along with contributing to their CSR goals.
Ekam Eco Solutions, founded in 2013, is a research spin-off of IIT Delhi's works on Sanitation. Over five thousand man hours of research on Sanitation forms the backbone of this organization. Ekam is a Sanskrit word meaning Oneness and Interconnectedness. Ekam's approach is based on the fundamental principles of Happiness, Simplicity and Positivity.
Ekam focuses on developing sustainable technologies and solutions to conserves water and convert waste into resource using natural means.
Restrooms smell only when #PeePee mixes with water. It creates Ammonia gas which is responsible for the odor. A typical man take a leak twice on an average day in office. With Zerodor, you can feel better for saving thousands of liters a year even in a small office. Some plumbers may still argue that waterless urinals can cause toxic sewer gas to escape and hence not safe to use. Just like us, you should point them to the Indian and International Plumbing Codes that accepted waterless urinals 16 years ago.
If you have tried waterless urinals earlier, you are aware of the cartridges that need to be changed frequently. Zerodor uses a mechanical valve that you need to change, NEVER. Follow our 15-minute Deep Cleaning Schedule twice a week, and your urinal will stay brand new, for years.
No more offers for this product!
General Inquiries
There are no inquiries yet.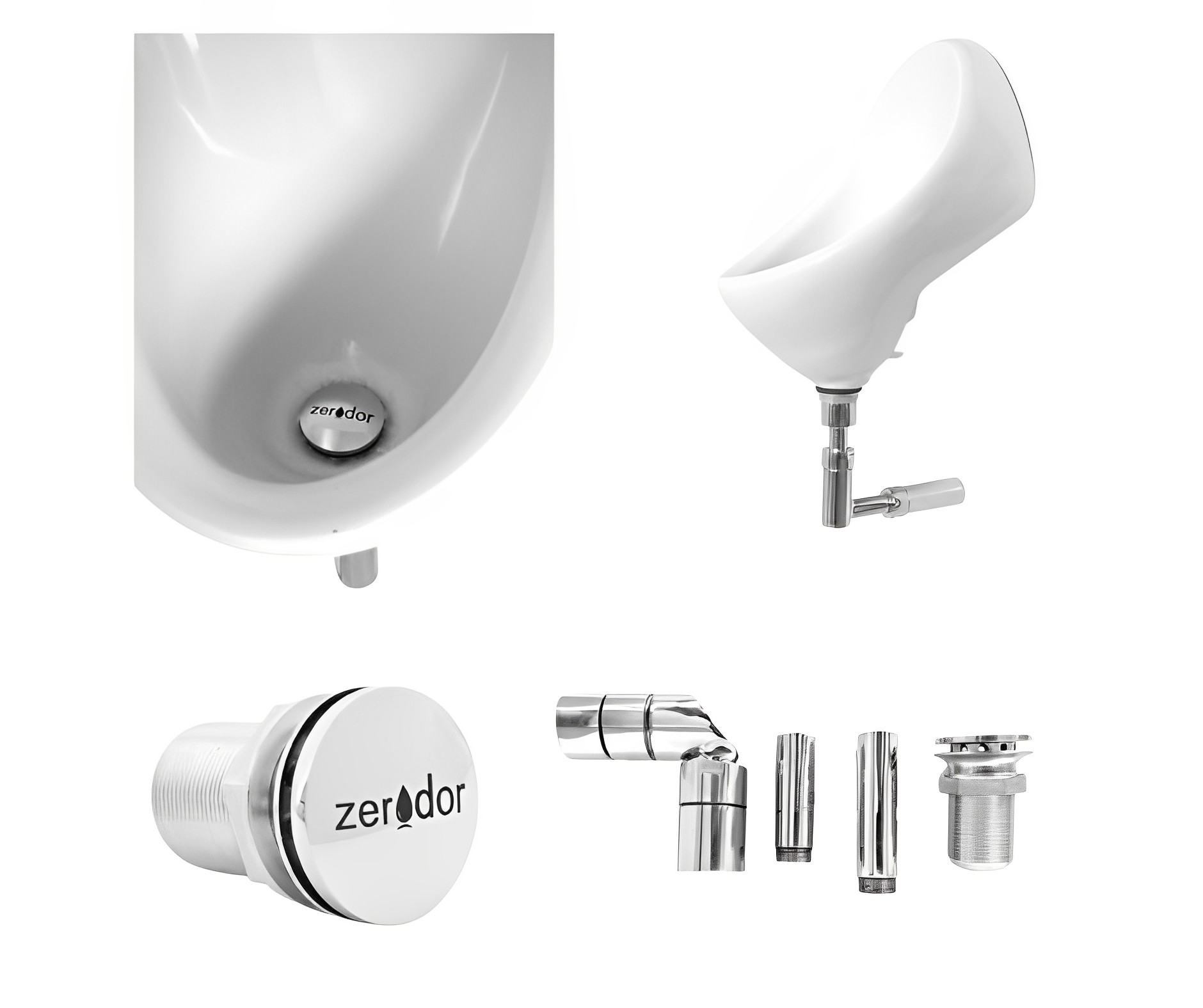 Inquiry about Zerodor Waterless Urinals by Ekam Eco