Consultancy on Zerodor Waterless Urinals by Ekam Eco
Brand

This unique and innovative product by Ekam Eco helps in keeping your restrooms clean and hygienic odour free and saves 80% water by not using water.
Zerodor
Ekam Eco Solutions, founded in 2013, is a research spin-off of IIT Delhi's works on Sanitation. Over five thousand man hours of research on Sanitation forms the backbone of this organization. Ekam is a Sanskrit word meaning Oneness and Interconnectedness. Ekam's approach is based on the fundamental principles of Happiness, Simplicity and Positivity. Ekam focuses on developing sustainable technologies and solutions to conserves water and convert waste into resource using natural means. Restrooms smell only when #PeePee mixes with water. Zerodor waterless Urinals make it impossible for them to make love (and odor), in the urinals. Besides the urinal, your restroom can smell from #PeePee on the floor. Good news – we have discovered enzymes that remove it too. On an average, conventional urinals use anywhere between 4 and 10 liters of water per use, depending upon how old they are. A typical man take a leak twice on an average day in office. With Zerodor, you can feel better for saving thousands of liters a year even in a small office. Some plumbers may still argue that waterless urinals can cause toxic sewer gas to escape and hence not safe to use. Just like us, you should point them to the Indian and International Plumbing Codes that accepted waterless urinals 16 years ago. If you have tried waterless urinals earlier, you are aware of the cartridges that need to be changed frequently. Zerodor uses a mechanical valve that you need to change, NEVER. Follow our 15-minute Deep Cleaning Schedule twice a week, and your urinal will stay brand new, for years.
Terms and conditions:-
1.)For Green Card Holders Only.
2.)One time consultancy for one user.
3.)Kindly submit your details at enquiry button.
No more offers for this product!
General Inquiries
There are no inquiries yet.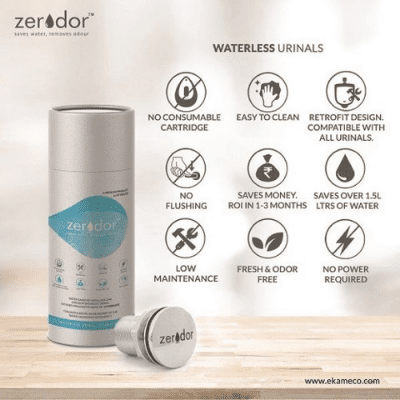 Consultancy on Zerodor Waterless Urinals by Ekam Eco