All-Natural Villa Cleaning Kit | 12 x 400 ml
Brand

WHAT ALL YOU GET IN THE KIT:-
4 × CARE Natural Toilet Cleaner | 400 ml (₹199.00)
2× CARE Natural Multi-Purpose Cleaner | 400 ml (₹229.00)
4 × CARE Natural Floor Cleaner | 400 ml (₹199.00)
2 × CARE Freshener with Natural Fragrance | 400 ml (₹249.00)
Shipping:-
Usually ships in 1-2 business days
Submit the inquiry to get direct support from our product team
Our products are free from chemicals that seep out of our homes with wastewater and pollute the earth and water bodies.
The CARE formula has been developed in the lab by environmental scientists and tested in homes by parents for performance, including our own team. We created this amazing solution to deliver a zero stress, tension-free experience while cleaning all restroom surfaces.
Bathroom Cleaner is a biologically advanced natural deep cleaner for all types of sanitary wares, including wash basins, showers, taps, slabs, fittings, ceramic bowls, and pans.
Room Deodorizer is a biologically advanced natural freshener for home interiors, restroom & public areas, laundry & locker rooms, fitness facilities. Inside homes, you can use it on couches, pillows, carpets, curtains, bed sheets, shower curtains, car seats, upholstery, linens and yoga mats.
Stain Cleaner is a highly versatile and powerful cleaner. You can use it to clean fabric stains, on kitchen countertops, bathrooms, high chairs, hardwood floors, car dashboards, blinds, laminate, chrome, furniture, granite, glass, grills, metal, painted surfaces, plastic, porcelain, ovens, quartz, sealed & unsealed stone, sinks, stainless steel, tables, toys, vinyl, walls, and any other solid surface.
Surface Cleaner is a natural Degreaser, Cleaner and Odor Controller that you can use for deep cleaning, sanitizing and odor control features. Surface Care is very useful for hard surfaces like Shiny Floor Surfaces, Polished Granite and Marble, Glass & Mirrors, Bathroom and Household fixtures, Kitchen & Bathroom Sinks, Drains and Garbage areas.
All solutions use active enzymes and non-toxic microorganisms that are the most effective ingredients to clean surfaces and act against persistent bad odor by removing the source itself.
Return and Refund Policy:-
7 days Replacement
This item is eligible for a free replacement, within 7 days of delivery, in the unlikely event of the damaged, defective or different item being delivered to you.
Please keep the item in its original condition, with the brand outer box, MRP tags attached, and original accessories in manufacturer packaging for a successful return pick-up.
Any product that is labeled as non-returnable on the product detail page will not be eligible for returns.
For any query, please call us at +91-9816031603 or mail us at orders@ekameco.com.
Weight:- 6 KG
FAQ:-
Why is this Cleaning Kit better than the cleaners I'm already using?
The CARE All-Natural Cleaning Kit has cleaners that are fundamentally different than the conventional cleaners you use.
One, they work differently. The microbes and enzymes in CARE cleaners consider the stains as food and eat it away which starves the other harmful microorganisms that'd thrive on the material and cause bad odor. Thus, they remove the stain right at the source.
Two, these cleaners use ZERO toxic chemicals which are good for your kids, pets, and the elders in the family.
Three, the cleaners when drained out of your home, continue to act on the waste they find in the drains. This reduces the sewage build-up in the drains and doesn't harm marine life when they actually reach water bodies.
In a nutshell, these cleaners CARE for your home, family, and the planet.
No more offers for this product!
General Inquiries
There are no inquiries yet.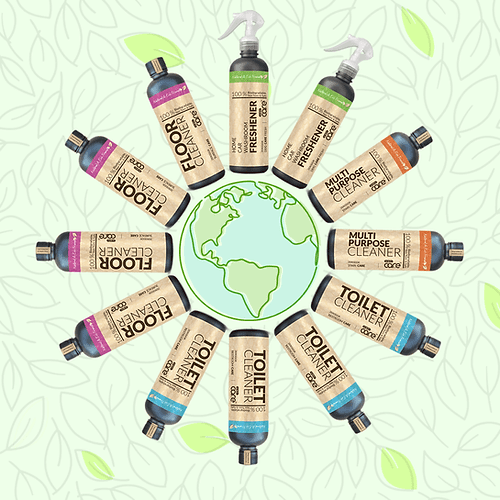 All-Natural Villa Cleaning Kit | 12 x 400 ml