Blower Centrifugal Fan Backward Curved 1000 Dia
Brand

Type – Belt Driven
Maximum Static Pressure – 450 mmWg
Maximum Air Performance – 250000 CMH
Size – 250 to 1400 mm
Submit the inquiry to get direct support from our product team
Product Specification
Material Aluminium
Usage/Application Industrial
Type Belt Driven
Size 250 to 1400 mm
Maximum Static Pressure 450 mmHg
Maximum Air Performance 250000 CMH
Feature
The backward-inclined "family" of fans has the highest operating speeds of all the centrifugal fans. These fans are used primarily in the industrial market for ventilation, clean side of commercial air-cleaning devices, furnace drafts, and large commercial heating and cooling units.
Advantage
First-rate energy efficiency. Constant airflow allows centrifugal fans to generate energy that reaches up to 84% static efficiency. These higher efficiency levels are ideal for sustaining larger air systems.
Enhanced durability. These fans are durable enough to properly operate in the most corrosive and erosive environments. Ability to restrict overloading. Certain centrifugal fans are fitted with non-overloading horsepower curves will ensure the motor will not overload if its capacity is exceeded.
Easy to maintain. Lighter material fans can be easily cleaned when you deem it necessary. Moreover, certain fans have self-cleaning characteristics, making daily maintenance that much easier.
High versatility. Centrifugal fans are useful for multiple airflow/pressure combinations, and they can process several airflow conditions, including clean, dry, and wet air
Multiple sizes. These fans are available in several sizes to accommodate diverse applications—such as those found in tight spaces or difficult-to-reach areas.
Techinal Speification
Exhausting Air
Fan Capacity 25000 CFM
Static Pressure 100 mm of WC @ 20 0 C
5 Fan Speed 1440 RPM
Application
Centrifugal fans rely on blades to drag air into a circular motion with centrifugal forces speeding up airflow radially and outwards. These fans move air outward through ducts or tubes, and they provide a stronger and more stair flow low than axial fans AIRFLOWLOW makes AFBC Series Backward Curve Fan is manufactured of ut cold-rolled led steel with precision to increase efficiency and to reduce the noise level. Impellers of AFBC series fans are welded for durability & strength. AFBC series fans impellers are designed to run at high rpm.
No more offers for this product!
General Inquiries
There are no inquiries yet.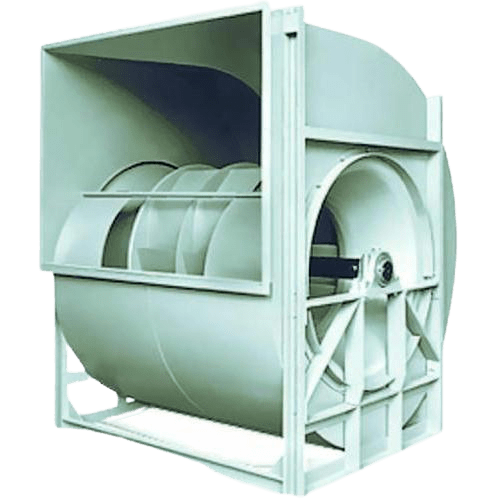 Blower Centrifugal Fan Backward Curved 1000 Dia