VAAYU HYBRID CHILLER: MIG 30: 1000 SQ. FT.
Brand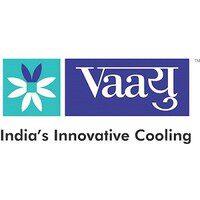 | | |
| --- | --- |
| Cooler Type | Chillers |
| Material | Plastic |
| Model Name/Number | Vaayu Hybrid Chiller |
| Brand | Vaayu |
| Power Consumption | 800 Watt |
| Size/Dimension | Medium |
Submit the inquiry to get direct support from our product team
Products Specification
MIG -30 1000 Sq. Ft.
Air Throw of Hybrid Chiller: Top Discharge
Heavy Duty Body
Air filter
Cooling Media : Honeycomb Pad
Remote Operated
Power Input : 1450 Watt
Body Dimensions: 3.5 ft. x 3.5 ft. x 3.5 ft.
'Vaayu' is a Patented Hybrid Chiller that combines the technology of Air Conditioners and Coolers to give high cooling efficiency like Air Conditioners but at the running cost of Air Coolers.
Vaayu Technology: Vaayu Hybrid Chillers delivers a temperature of 24 to 26 Degree Celsius when the ambient temperature is 30 to 42 Degree Celsius or even more. The power consumption of the machine is only 250 Watts/ Hour as compared to 2500 Watts / Hour of an Air Conditioner. Hence, with Vaayu technology, the power consumption saving is almost 80-85% as compared to a similar tonnage AC.
Advantages
Benefits of Using Vaayu Hybrid Chiller/ Vaayu Air Conditioners 1. Reduces Power Consumption up to 85% as compared to similar tonnage AC.
Does not Emit Heat in the Environment
Reduces Water Consumption as compared to Air Coolers
Provides Instant Cooling during High Ambient temperatures
Healthy Solution as it induces Fresh Air in the room
Reduces High Maintenance Cost of AC
Application
Our products could be installed for commercial as well as domestic purposes while on erection as well as in erected premises like
Factories
Hotels
Banquet
Bungalows
Mess
Restaurants
Vaayu MIG Range is the perfect cooling solution for Industry, Workshop, Hall, Commercial Area, Mall, Temple, Church, Mosque, Education Center etc.
No more offers for this product!
General Inquiries
There are no inquiries yet.
VAAYU HYBRID CHILLER: MIG 30: 1000 SQ. FT.