ENLITE ENABLE
Brand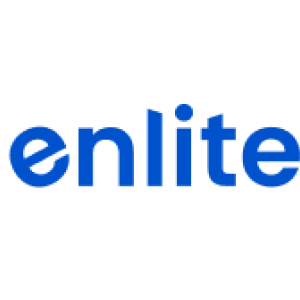 KEY FEATURES:
EASY TO INSTALL
WI-FI CONNECTION CAPABILITY
BLE FOR CONFIGURATION, MOBILE USER AUTHENTICATION &
COMMUNICATION, AND WITH MOBILE APP
EMPLOYEE AND GUEST ACCESS MANAGEMENT
CONTACTLESS ACCESS
OFFLINE DATA STORAGE CAPABILITY
OVER-THE-AIR UPDATES
Submit the inquiry to get direct support from our product team
GENERAL SPECIFICATIONS:
FUNCTION                                                                 SPECIFICATION
ELECTRICAL
Input Voltage Range: 12VDC

Power Consumption: 1.5W max.

Polarity Protection: Reverse input shall not damage the unit

Short Circuit Protection: Shorting Input power supply terminals shall not damage the device

OCP: 1.5A DC current shutdown

OVP: Withstands over voltage up to 33VDC

UVP: Withstands under voltage up to 9VDC

ESD: 2 KV external Voltage Spike or Human Body Contact

COMMUNICATION
Wi-Fi, BLE
CONNECTORS
1x Ribbon Cable Connector
NETWORK SPECIFICATIONS
Wi-Fi connectivity

MQTT

SSL/TLS security

CERTIFICATIONS
CE
MECHANICAL & ENVIRONMENTAL SPECIFICATIONS:
FUNCTION                                                                          SPECIFICATION
ENCLOSURE
ABS Plastic type Enclosure
INTERFACES

Type of Interfaces
Number
Indication
WiFi Network

Authentic User Entry Ethernet Unauthorize User Entry

1

1

1

RGB LED (Red)

RGB LED (Green)

RGB LED (Blue)

INPUT / OUTPUT, POWER,

COMMUNICATION &

OTHER CONNECTORS

1x Ribbon Cable Connector for Power Supply, Door Lock connection and REX connection
SWITCHES & MODES
1x Reset / Enable Switch
MECHANICAL  DIMENSIONS
105 x 68 x 31 mm
WEIGHT
110g
MOUNTING TYPE
Vertical Wall Mount
OPERATING TEMP RANGE
0°C to 65°C
STORAGE TEMP RANGE
-20°C to 70°C
OPERATING HUMIDITY
10%-95% RH (non-condensing)
STORAGE HUMIDITY
5%-95% RH (non-condensing)
DEVICE MECHANICAL DETAILS:
The device measurement is as follows: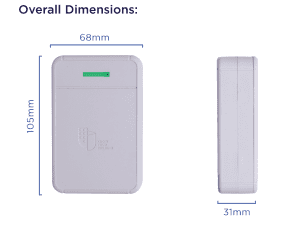 Length – 105mm
Width – 68mm
Depth – 31mm
SOLUTION HIGHLIGHTS:

No more offers for this product!
General Inquiries
There are no inquiries yet.